Let's get started with Good2Go!
Following are some short tutorials that will help you get up and running with Good2Go in no time.

See Lesson 4 to learn how to set up an order portal!
Sign-up for a 14-day free trial —
no credit card required.
Now you're Good2Go!
After log-in, visit "Account" settings and set your team name and upload your logo. This is used to personalize and brand system emails to clients.
Review your account settings. These are your default settings for due dates, reminders, review tools and more.
Note: Every new user account starts with a 14-day free trial period. You will not need to enter payment information until you are ready to convert to a paid subscription plan. No action required to cancel the free trial period.

Maximum logo size for branding:
Maximum width: 560 pixels
Maximum height: 120 pixels
Maximum file size: 1.0 MB
You need the layout by 11am tomorrow…
will the customer remember?
In print production, often there are multiple deadlines throughout the production process — not just the job delivery date.
Visit "Settings" in your Good2Go account to set the parameters for the default deadline and reminders that will be applied to jobs sent for review and approval to print buyers. Utilizing due dates and Good2Go automated reminders will save you time chasing down customers and colleagues to remind them of what you need.
At Good2Go, our support policy is simple… if you need help, we're here to help. Just submit a support form and we'll get back with you as soon as we can. In most cases the same day.
Lesson 1: Adding files to Good2Go
There are two primary ways to import a file into Good2Go. One is for Good2Go users (drag and drop) and one for external customers (upload links).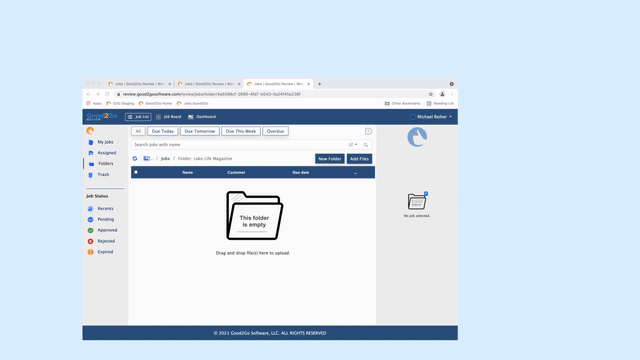 Just click and drag your file onto the Good2Go interface and your file will be uploaded. If you want your file uploaded into a specific folder, be sure to open it first.

File formats supported include just about everything. PDF, EPS, PSD, IND, PPT, XLS, DOC, TIFF, JPEG, etc…
For external customers, create a folder and enter the customers name and email. Then from the folder action menu, select "Send upload link".

You can then send the upload email right from Good2Go, or copy the link and add it to your own email. With the upload link the external customer can just drag and drop the files into Good2Go and the folder you created. Good2Go will notify you with an email when the customer uploads a file.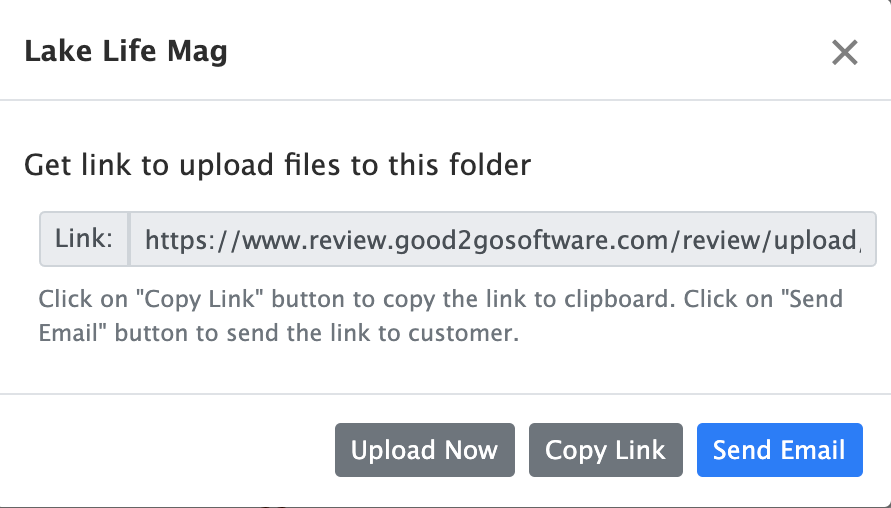 Folders to be submitted to Good2Go should either be compressed into an archive (.ZIP) or the contents of the folder can be uploaded individually or in mass.
Note: Safari on MacOS supports automatic archiving of a folder when dragged and dropped on the Good2Go upload screen.

Every PDF uploaded in Good2Go gets preflighted automatically.
See lesson 3 to learn more about the automated preflight provided by Enfocus Pitstop!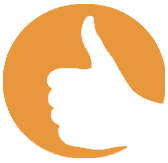 Lesson 2: Review & Approval
Good2Go provides a PDF document review and approval service with a variety of mark-up tools.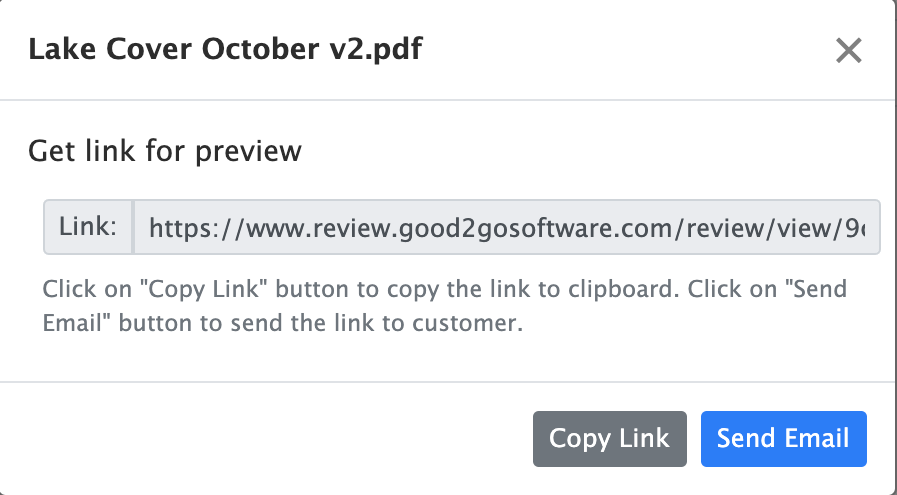 To send a document for customer review, select the PDF to be sent, then select "Send for review" from the action menu.

Like other functions in Good2Go you get an option to send the review notice from Good2Go, or copy and past the review link into your own email.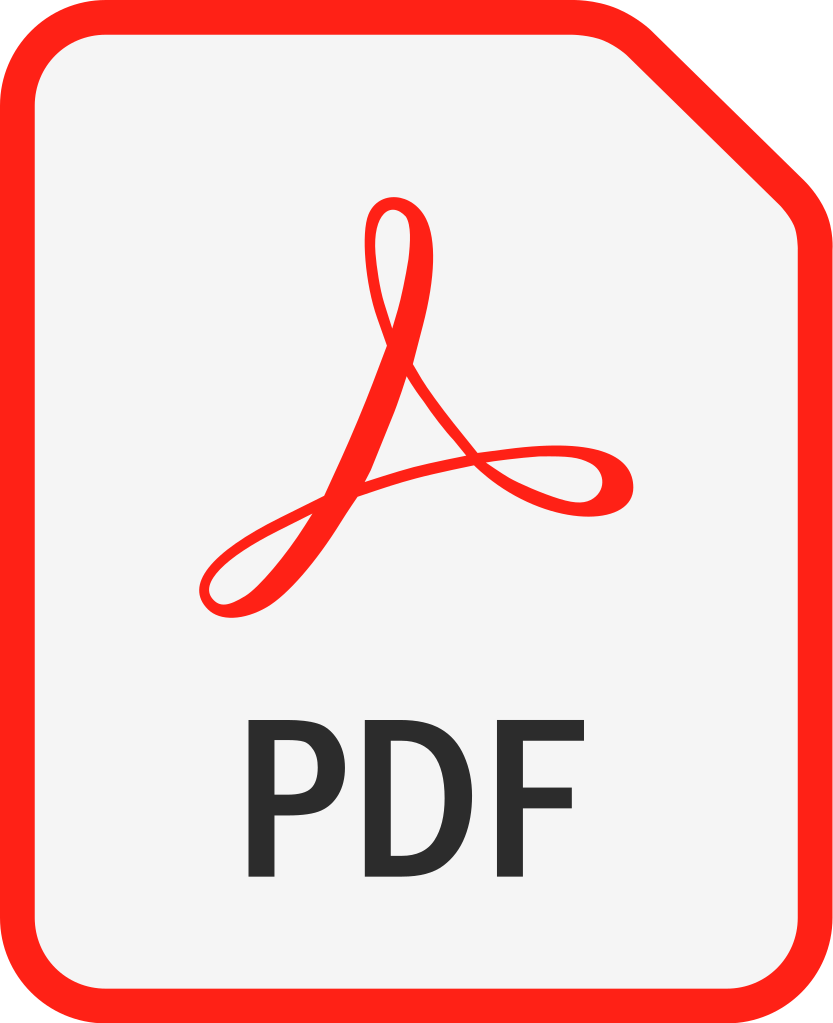 PDF and image file formats such as, TIFF, JPG, GIF, and PNG are supported by the review engine.
More Review & approval features…
If multiple people need to review a document on the clients side, they can forward the review link to additional co-workers for their input.

Another way is to change the customers email address after the first review and resend the same document to a 2nd or 3rd reviewer.

The advantage to this approach is each reviewers comments are captured separately and recorded in the document history.


Need to point out an issue or verify a specific change? No matter the reason, if you need to mark-up a document just click on the preview and use the mark-up tools to mark up the issues and questions you want to confirm.

From there, just send the review and the customer will see your comments.
Do you need to send a document to a customer? Maybe you need them to make a change on their end to a document you've also made corrections too?

To send a document to a customer, just select the file and select "Download" from the action menu. Then select "Copy Link" and send that to the customer in an email.
Another option is to allow them to download a document from the PDF review window. To do this, simply turn on "Allow File Download" and send the customer a review copy.


Good2Go captures all review comments and approval selections creating a record of the review and approval events if needed down the road.
Don't be shy, submit a support form and we'll get back you as soon as we can!
The super awesome Pitstop PDF preflight in Good2Go is provided under license by Enfocus Software. PitStop Pro is the best selling, most used PDF preflight and PDF editing tool in the print service provider industry. If you'd like to learn more about what PitStop Pro can do to help you correct common PDF issues, click on the Enfocus Technology Logo to be linked to their web site.
Any time you upload a PDF to Good2Go it will be run through the Preflight service provided by Enfocus Pitstop. When done, you will see the results in the file summary pane, and you can view the detailed results under the "Preflight" tab of the file details section. Along with this, Good2Go provides an annotated preflight report that allows you click on the error message and see the offending object on the page. A great way to find the source of any errors.

What's checked in the PDF?
The preflight service looks for a large variety of possible issues in your PDF files. Those issues include: missing fonts, low resolution images, bleed settings, overprint and transparencies, ultra-small line weights, spot colors defined, and more. The checks enabled focus on typical issues and common parameters for offset and digital printing.


Using the Annotated Preflight Report
Download from the preflight details window.
Note, there is also a JSON version for the workflow integration types.



Open the PDF with Acrobat. View the list of errors and warning found in the PDF. Select an error and the object with the error will highlight on the screen. Easy-peasy!

lesson 4: Setting up an order Portal

Making an order portal is easy. First make a folder. Give it a name you'll know what it is. With the folder selected, on the right panel turn on "Make Portal". You will see the portal Icon appear next to the folder. From the context menu, select "Portal Link". This will give you the link to the portal center page. From there, you can navigate to a "Quote" or "Order". These links can be independently posted on your web site or shared with customers.
Share your ideas for features, support articles, other services to integrate with. We'd love to hear your thoughts!