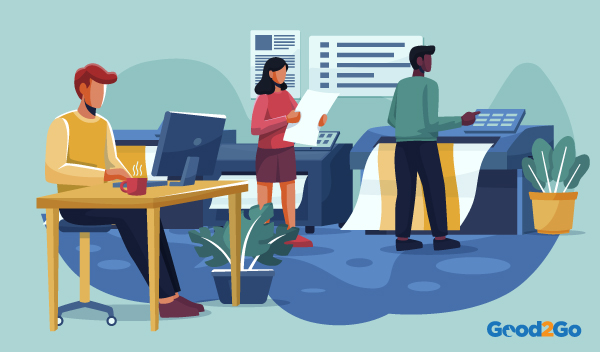 employ advanced workflow tools In 15 Minutes Or Less!
Good2Go is a cloud-based workflow that's easy to deploy, learn and use. No special hardware, integration or lengthy training required.
Link with print buyers for document uploads, corrections, and print approvals with advanced mark-up tools.
Send automatic reminders of pending deadlines, plus get notified when clients submit files, changes or approvals.
View what's due today, tomorrow, this week or (gasp) past due with a single click.
No credit card required! Only your name and email and you're in!
Easy for the print buyer and powerful for the printer. See how Good2Go makes job on-boarding a breeze. (02:17 mins)


Know if your files are print ready instantly. See how PDFs are automatically preflighted for critical errors that can affect print quality. Powered by Enfocus Pitstop! (01:30 mins)
Easy document review and approval with advanced mark-up tools. Need an response by 3pm? See how Good2Go will chase down the customer for you. (03:02 mins)
No hassle installation. Up-and-running in 15 minutes or less. See how easy it is to get started with Good2Go. (02:27 mins)
Employees need to collaborate too and need co-workers to help complete tasks to get the job done. See how Good2Go makes tasks easy. (02:14 mins)
Email is your remote control for Good2Go. See how you can send review documents or request uploads without leaving your email. (01:42 mins)

Walt Stevens, Blasi Printing
Walt Stevens, production manager at Blasi Printing in Hanover, PA talks about his experiences using Good2Go. (03:42 mins)
Options to fit your team.
Monthly subscriptions packages that help you grow your team.
Ideal as a place to start or for companies with less than 10 employees. $50 per-month
Build a team and share files and tasks..
$150 per-month ($30 per-user).
Maximize your production efficiency.
$250 per-month ($25 per-user).
No credit card required, with hassle-free cancelation. Just sign-up with your name and email, and you're in!