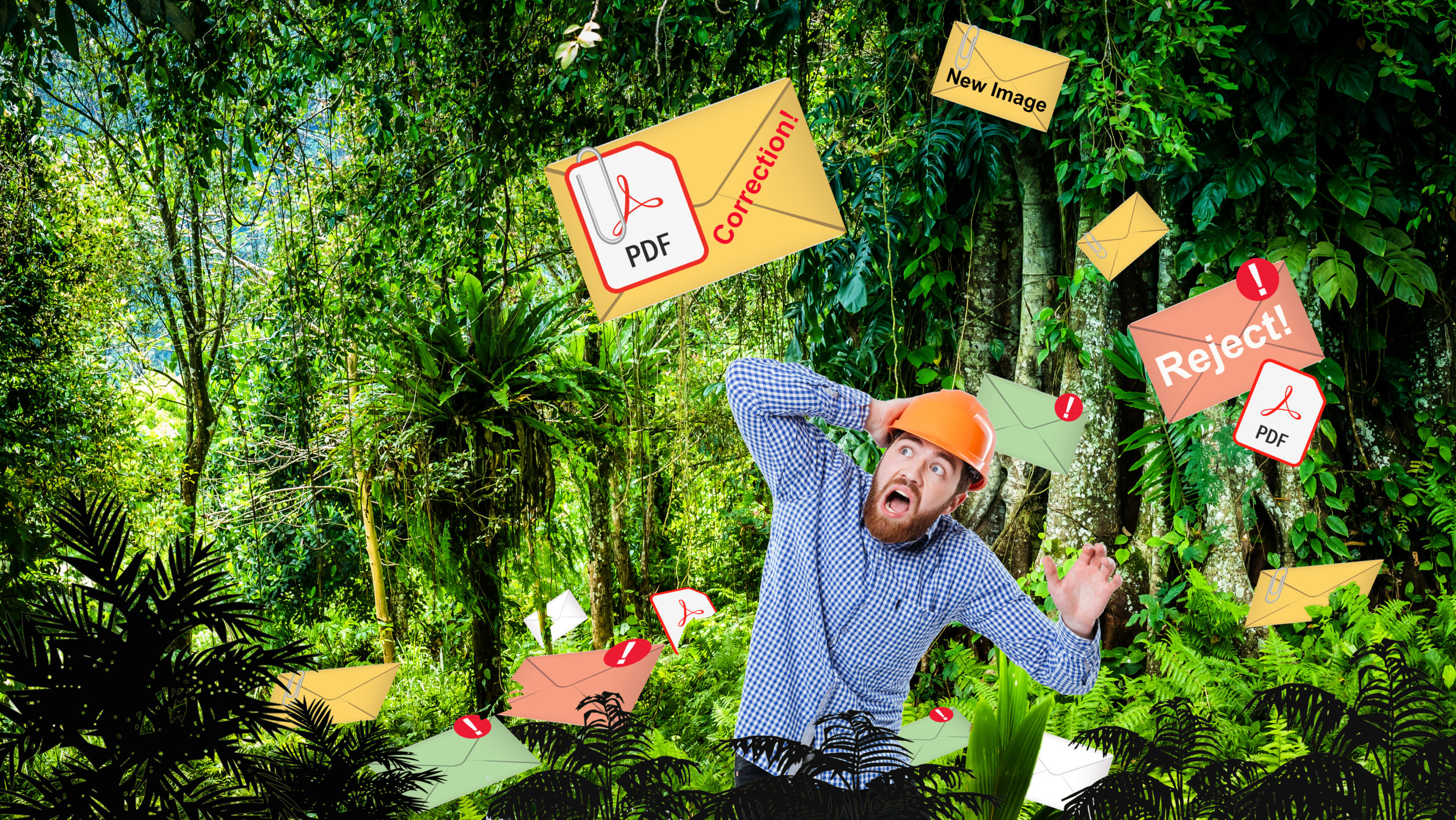 Email makes a horrible workflow
On average, 50% of print orders come in by email. Convenient for the print buyer, a nightmare for the printer.
Industry research shows most printers receive over 50% of their print orders through email. Also, email is by far the #1 communication tool used to communicate changes, updates and for communicating print approval. Yet, email can bury critical information in conversation strings or get lost in the shuffle of a busy day.
Have you ever experienced any of the following situations?
Spent more than 10 minutes trying to find specific information in an email.

Forget to forward an email to a co-worker causing a job to be delayed.

Missed a file enclosed in an email.

Lost the email showing the customer approval to print a job.

Find yourself searching your inbox, outbox, spam folder, and even the trash folder trying to find the "lost" email.
I'm guessing if work print production and work with clients, you've experienced at least one of more of those situations. I know myself, I dread anytime I need to go back through email and try to find some specific information. I dread it because I know, if I have trouble finding the email I could waste 10, 20, 30 minutes or more just trying to locate what I want.
Can you feel the stress building just thinking about it?
The answer to this problem has been to get the print buyers to submit their jobs on-line through a simple print order interface or a more complete Web 2 Print solution. Of course, it's easy to think that customers will flock to these solutions because it makes it so much easier. All the print buyer needs to do is upload their file, make a few selections such as trim page size, number of pages, fold and trim options, paper type, binding, etc…
Just send an email and let the printer figure it out!
For For the record, I'm being sarcastic in my last couple paragraphs. Print buyers, especially occasional print buyers don't know print lingo, they don't paper types, and discussing things like bleeds send them running.
It's my humble opinion that many print buyers don't understand the process and don't want to learn it either. They just want their file printed, delivered on-time and look great. They want you (as the printer) to help them get what they want, and they could care less about using your systems to make your job easier.
Print buyers just want their print and your help getting it.
So how do you get print buyers to co-operate? How do you stop print buyers from using email to submit jobs?
As long as print buyers use email to communicate job specifications, send in files, and approve files for print, you, as the printer, will have to use email too. Based on what we've seen over the past 15 years, this probably is not going to change anytime soon.
How do you deal with the email workflow that print buyers love?
The key to dealing with limiting the email workflow is getting the print buyer to use other trackable and manageable on-line systems, like a web to print solution. But as it's already been pointed out, this is easier said than done. Print buyers have already shown that if the printers system becomes difficult, the print buyer will bail and revert to email.
At my company, Good2Go Software, we see this as a big problem for the industry. How can we learn to work with email as a workflow when we already know, email makes a horrible workflow?
Our philosophy has been and continues to be:
"If you can't beat'm, join'm!"
When we first envisioned Good2Go we saw email as an important part of our solution. We knew we needed to support email for getting information to print buyers, and providing print buyers easy access to the technology that will ultimately benefit the printer and the print buyer. Everything we do in Good2Go has been designed to make email the communication vessel that ultimately gets printers and print buyers to the files and information they need without any hassles such as logging in.
For example, Good2Go will send an email asking the print buyer to review and approve a PDF. It does not include the PDF, but a link to the document already in Good2Go where they can review the document, mark-up errors, and approve, reject, or communicate errors back to the printer. All from one link in an email with no log-on or account required. When complete, the printer gets an email showing a summary of the review results and if more detail is needed, the summary email has a link right to the document in Good2Go where they can see all the details and mark-ups put on by the customer.

The key in this example is where the information is kept. Although the information is in the email, it resides on-line in the Good2Go service. So if the printer needs information and can't find the email right off the bat, they can just open their Good2Go account and see everything the customer has submitted.
However, what about those new jobs that are sent in by email?
Right now, the only choice for printers seems to be to renter the information from the print buyers email into the system being used for order tracking or order management. This relies on someone at the printer to do this task. However, when the day gets busy sometimes this task is put off for more urgent tasks and later the email get lost in the shuffle of a busy day.
Sadly, you may already have the perfect answer in your web site with a very robust Web-to-print ordering system, yet print buyers mostly ignore this and revert back to the familiar email method.
"Resistence is futile!" or is it?
At Good2Go we know print buyers will always do what they feel is easiest for them. We also know that print employees will also migrate to what's easiest for them. Either way we know email workflows are here to stay and no matter how full featured and benefit loaded a tool can be, it's useless if employees and customers don't use them.
Given this, Good2Go offers what we call an email driven workflow . With a valid and verified Good2Go account a printer can access some very important functions of Good2Go all by sending an email. For example:
A CSR needs to send a print buyer a PDF document for their review and approval for print. To speed this process, the CSR creates a new email to "Send@good2gosoftware.com", enters the customers email in the subject line, and drags and drops the PDF in the email. After that, the email is sent. No instructions to write, and within a minute or two the CSR gets a confirmation the review document was sent and the print buyer gets an email request for their review and approval.
The advantage is it only takes about 10 seconds to forward the email. Even when busy, most employees can take the seconds needed to forward the email. When done, the job is now in the Good2Go system and is trackable and sharable. Plus, Good2Go adds a little magic to the mix to automatically applying a deadline to the review so the print buyer is automatically reminded to complete the task. Quick and simple.
The bottom line is, at Good2Go we will continue to look for ways to work with email-based workflows including, effective ways to work with new orders that are emailed to printers. Stay tuned, more on this is coming very soon.
For more information on Good2Go and what it can do for your job on-boarding workflow, visit our website at Good2GoSoftware.com.