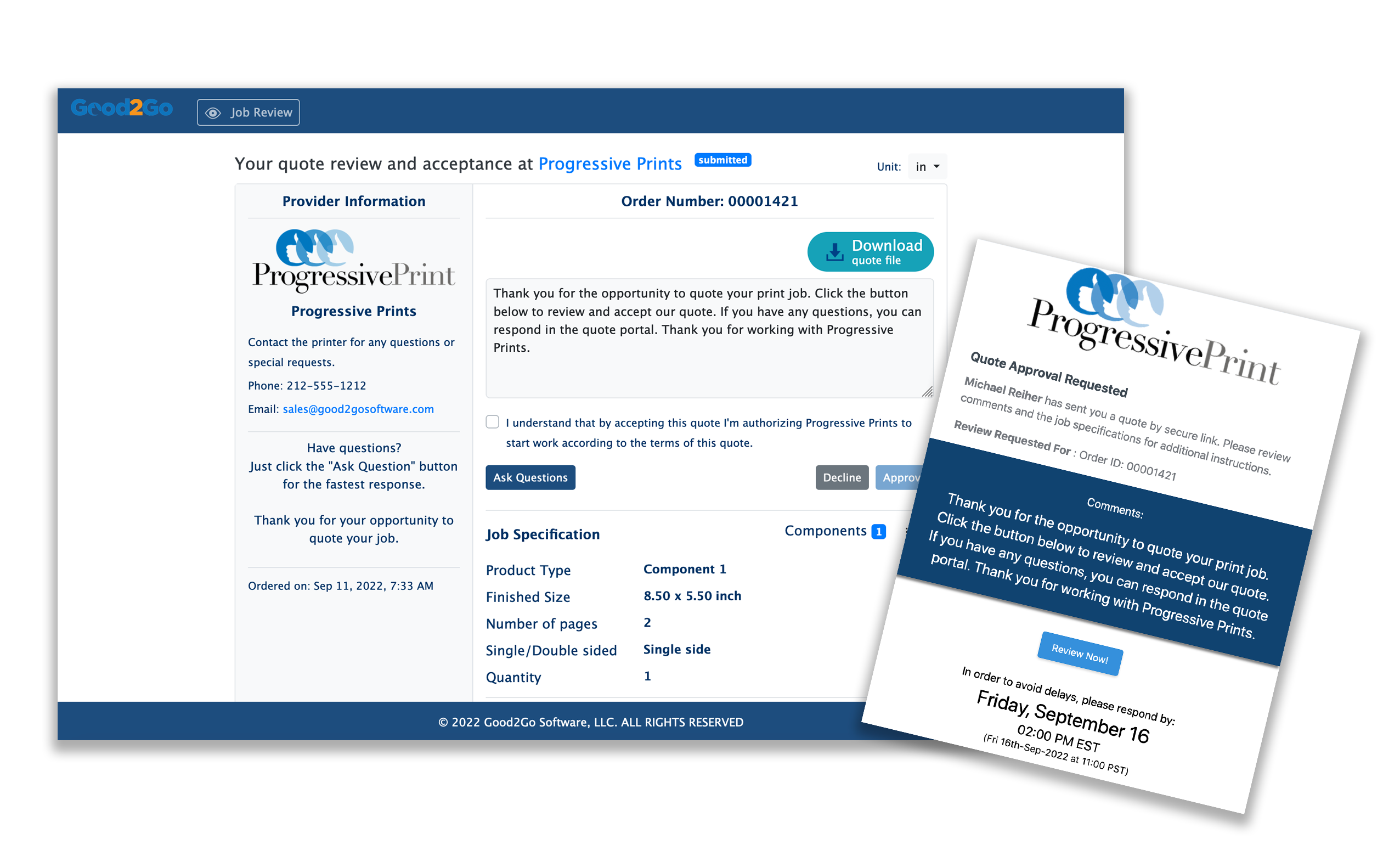 Good2Go Online Proofing for Print Adds Workflow for Quote Approval
New release also includes updates to the print order portal to support multi-part job submission.
September 12, 2022, Shickshinny, PA, USA
Today, Good2Go Software announces a significant update to its Good2Go online workflow and proofing service for print service providers. This will include an all-new quote approval solution designed to automatically follow-up on quotes and help printers close more business. In addition, the file submission and print order portal function has been enhanced to handle multi-part jobs including automatic PDF preflight for each PDF submitted.
Good2GoSoftware.com offers an intuitive document management for print, with easy-to-use job on-boarding tools that facilitates collaboration with clients and co-workers while connecting with existing systems in-use today. Tools include secure file submission, flexible print order portals, automated PDF preflight, online proofing with mark-up tools, correction management, and task assignment.
"The new quote approval function will help printers close more sales" said Michael Reiher, president, and co-founder of Good2Go Software. "Following up on print quotes is essential to encourage acceptance by the print buyer. Good2Go will now automatically follow-up on quotes sent, increasing acceptance as much as 20%."
When a quote is created, it can be loaded into an existing job already in Good2Go or imported as a new job. Once imported, the quote can be sent back to the client using branded email notifications and an online job quote portal. From there the client can review the job specifications and the quote. If the client has questions or changes, they can submit them in the portal where they are tracked by Good2Go or, they can "Approve" the quote automatically converting it to a job.
Key to the quote workflow is Good2Go's automated reminder service, which is essential to increasing quote acceptance to capture new sales. With the solution If the client does not respond to the quote within a predefined timeframe, a reminder is sent until the due date is reached or the client accepts the quote.
In addition to the new quote review workflow introduced, Good2Go has also upgraded its job/file submission portal to allow for multiple part jobs to be uploaded and defined. In this enhancement, the user can define the specifications for each file uploaded. After submission, PDF files are automatically preflighted using the built-in Enfocus Pitstop technology and information critical for print quality is exposed.
Pricing and availability
Good2Go with the new features is available today in North America, Australia, and New Zealand and is licensed through monthly subscriptions, starting from only $50 (USD) a month. Good2Go offers a 14-Day FREE trial directly from the Good2GoSoftware.com website.
Good2Go Software, LLC, founded in 2020, is a global supplier of cloud-based workflow solutions for the graphic arts and printing industries. Our mission is to offer an open workflow environment that is accessible by companies of any size. We will do this by taking an all-new approach to workflow solutions utilizing the latest in cloud technologies to integrate with a large variety of graphic arts, and non-graphic arts, solutions. Good2Go customers will be able to select best-of-breed solutions to add to their Good2Go environment without any additional integration or IT services required. Therefore we say, "Good2Go is workflow without the work."