The road
to print approval
Obtaining final print approval is critical before printing begins. However, not every time is it a simple approval. Sometimes customers need changes or, the printer has questions on the layout or the content of the layout. Clear communications and making sure approval is obtained on-time is critical for production to proceed smoothly.
Bumps in the road to print approval
One of the biggest challenges is keeping track of the client approvals. Many printers use email to obtain final approval. PDFs are emailed out with a note for the client to review and approve.
This is where things can go wrong as email makes a horrible workflow.
Clients may miss the email or not read it carefully to know they need to respond. On the printers' side, more than likely they have several files out for approval and someone needs to remember which ones have been approved and which ones are still due or even running late.
Questions to consider…
How do you keep track of the deadlines?

Who remembers to chase down the client if they don't respond on-time?

How does the customer review the PDF?

How do they communicate changes or mark-up a document?

Is the PDF they're reviewing the same one that will go to press?
When the printer emails the print buyer a document for approval, they handover control to the print buyer on what happens next.
There is no consistency on how a document is viewed. There is no consistency on how corrections are communicated and its up to the printer to make sure the print buyer responds on time to get the job done.
What if you could solve these problems with no additional work?
The "no additional work" solution
Good2Go was designed to bring powerful workflow solutions to printers of any size without the cost and pain of implementing custom solutions. In addition, Good2Go was designed to be easy to learn and use — not only for employees at the printer, also the print buyer.
Good2Go makes the process easy for everyone and providing a uniform way for print buyers to communicate changes or ask questions. In addition, Good2Go manages the entire process automatically, keeping track of deadlines, reminding print buyers to approve their documents, and making sure the printer is informed when the print buyer completes their review.
Features include:
PDF review with mark-up tool.

Choices for Approve, Changes, or Reject

Automated Email notices (printer branded)

Automated reminders based on deadlines

Automated completion notices

Two-way mark-up for communicating issues
Email is easy, how could this be easier?
The reality is, email is easy only because we've gotten so use to it. It's something most people have used for years so we all know how to use it. However, that does not make it easier overall when you look at the entire workflow.
Here's a comparison.

Write instructions to the print buyer

Attach a review file (10mb limit)
Drag and drop a PDF file onto Good2Go
With the above actions, Good2Go automatically adds a deadline based on preferences you've already predefined. Good2Go will generate a branded email that clearly defines the task (review and approve), highlights the due date and provides the user with direct access to file for review — no log-in, no account required for the print buyer.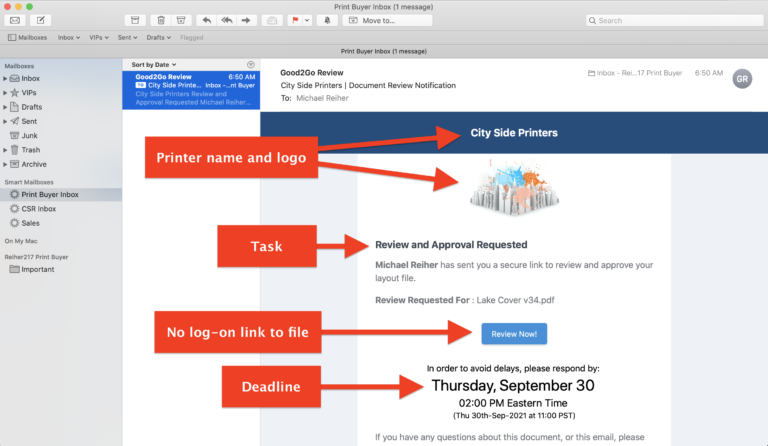 Print buyer branded email layout sent by Good2Go.
Good2Go tracks the entire review process. When the file is opened, it's noted. When complete, notifications are sent automatically back to the sender with the review status, print buyer notes, notation of any on-line mark-ups made and a direct link to the file in Good2Go.
No need to download the file. No need to open it to see if the customer made any annotations. Everything is right there in the notification email making it easy to know if the file is good to go for print at-a-glance.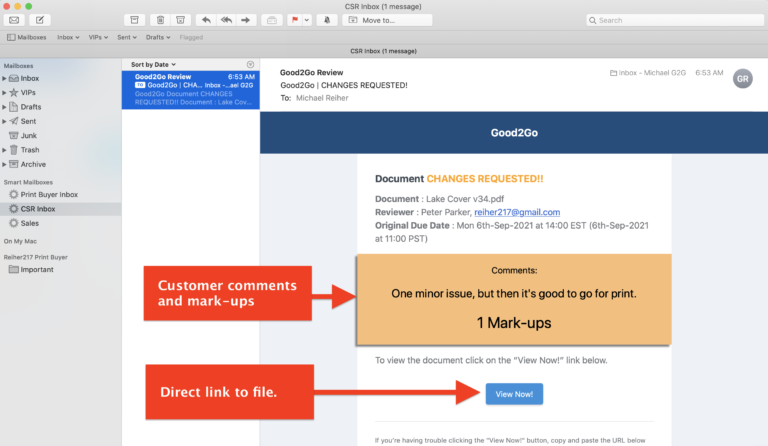 Email notification sent to the printer when a review is done.
One of the features of Good2Go is the ability for the printer to mark-up a document and send it back to the client. This allows the printer to be precise when communicating issues.
For example, a document has one image out of 10 others does not have enough resolution to print and all images are very similar making it hard to explain which image needs replacement. In Good2Go, the printer can just circle the image that needs replacement and send it back to the customer for correction. This eliminates communication cycles and speeds the correction process.
Sending a layout for review and approval is one part of reaching print approval, but so is review of the job specification and costs. Given any PDF document can be sent for review and approval, Good2Go can be used for more than just getting client approval on layouts. Just drop in the price quote and send it for client approval like any other file.
See it, try it, put Good2Go in production…
Watch the video on Review and Approval or give it a try for yourself. Just sign-up for an account, and you're automatically sign-up for a 14-day free trial. No credit card required, and you are not automatically billed unless you sign-up for a paid account — no need to cancel.
Once you have a Good2Go account, just drag and drop some PDFs on the Good2Go window to upload — Good2Go will then preflight the file and you can view the results under the preflight section of the file details.