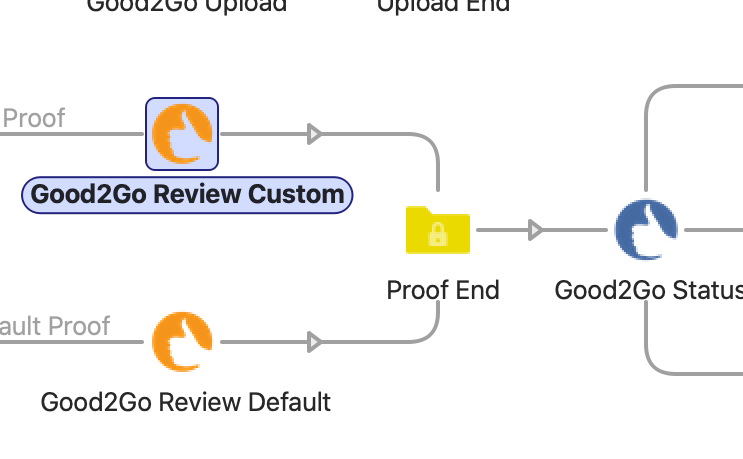 Good2Go cloud services to release App bundle for Enfocus Switch workflow automation platform
App bundle connects the best of cloud and ground-based automation services for print production
October 19, 2022, Shickshinny, PA, USA
Today, Good2Go Software announces its App bundle for Enfocus Switch workflow automation platform. With this new bundle, Enfocus Switch customers and integrators can connect their Enfocus Switch workflows to their cloud based Good2Go account for a variety of automated services such as on-line proofing, or secure file delivery to remote customers. In addition, the App bundle can detect the status of a file such as, "Approved" for print, download it and present the file to other Switch workflows for imposition, or other production functions.
The Good2Go App bundle will consist of four Apps, each performing different tasks to upload and download files, monitor file statuses, along with different Good2Go services such as online proofing or forwarding a job to a third party. The Apps also support variables for a variety of settings so a workflow can be partially, or completely driven "lights out". The Good2Go Apps will be sold as a paid bundle. Pricing to be announced at a later date.
"This is a game-changer for Switch customers and integrators" said Michael Reiher, president, and co-founder of Good2Go Software. "With the new Good2Go Switch Apps you can connect ground-based Switch workflows to our Good2Go Cloud-based workflows in less than 15 minutes making it very easy for clients to utilize branded and customizable cloud services to easily collaborate with external clients."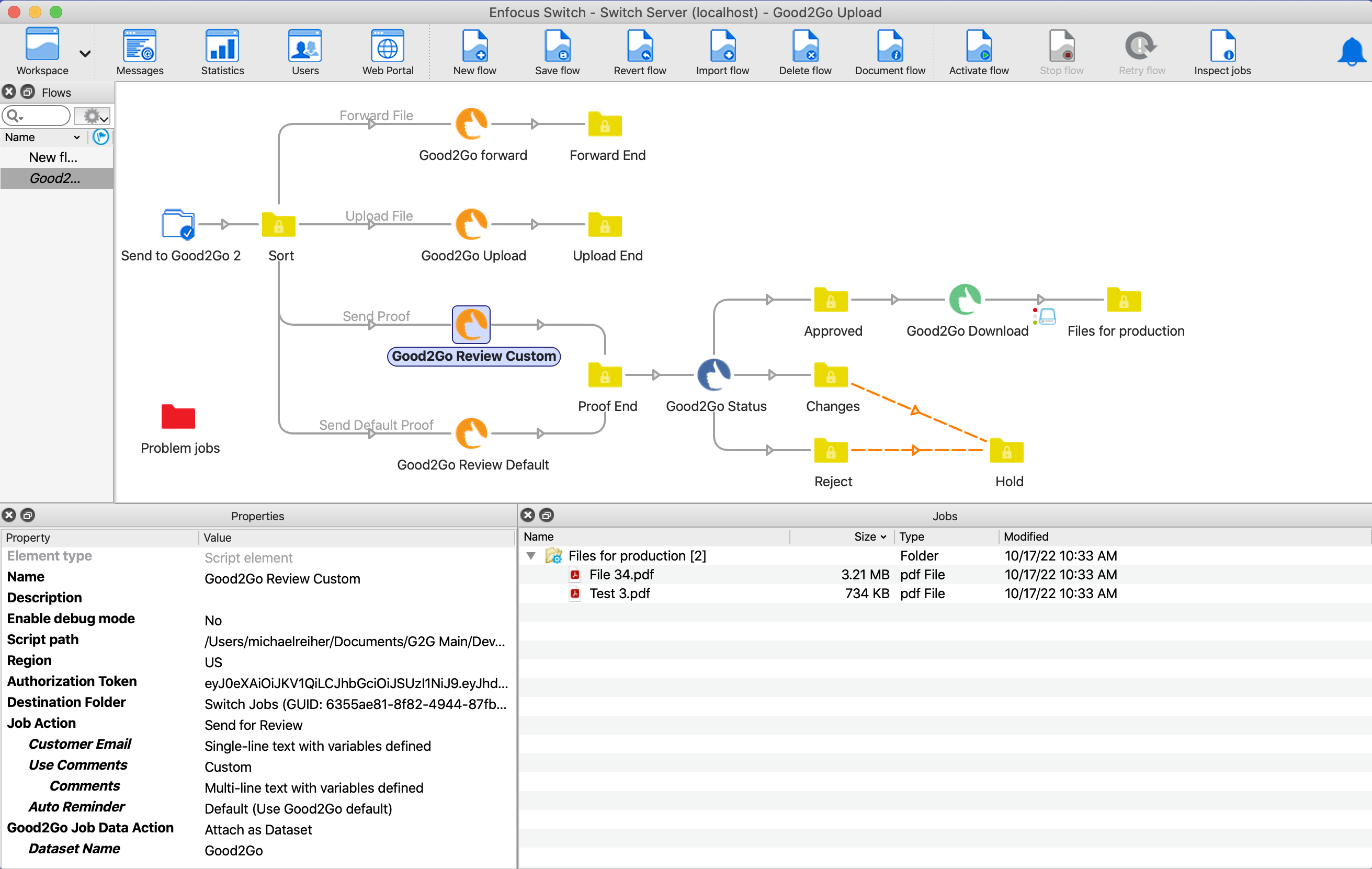 Using Switch rule and event-based workflows, files can be routed to a specific Good2Go service with client emails, custom messages, and deadlines for the given task. When a file is received, Good2Go will process the file according to the instructions from the Switch flow. Another Good2Go App reports back any file events to Switch such as client approval, new file uploads, or even when files have been tagged as needing correction. If needed, a third Good2Go App can download files from the Good2Go environment as needed. This allows files to stay in the cloud until they are needed for final print production.
"We recently implemented Switch and Good2Go in our shop, and we've been working hard on the process improvements opened up by each program" said Don Schlaich, system administrator at Panther Graphics in Rochester, NY. "Each has already saved us time and effort, and I'm looking forward to what we can manage after the integration."
The new suite of Good2Go Apps will also help Switch integrators who are looking for powerful services that allow them ways to customize the experience to meet their client needs. With the new Apps and Good2Go they can develop intelligent flows that bring together functions from an MIS with client services and final production services to complete the production circle.
"I had a sneak peek at the upcoming Good2Go apps for Enfocus Switch and these are very exciting" said Andrea Mahoney, president, Tribay Enterprises, Inc. "Combining Switch with Good2Go cloud services provides a perfect way to automate status checks, upload and download files hands-free" continues Andrea.
Good2Go offers intuitive document management for print, with easy-to-use job on-boarding tools. Tools include secure file submission portals, automated PDF preflight, online proofing with mark-up tools, correction management, and task assignment.
Customers interested in learning more about the Good2Go Switch Apps and sign-up to beta test the Apps should visit www.Good2GoSoftware.com/automation and submit an application.
Pricing and availability
Good2Go is available today in North America, Australia, and New Zealand and is licensed through monthly subscriptions, starting from only $50 (USD) a month. Good2Go offers a 14-Day FREE 14-day trial along with live set-up and training directly from the Good2GoSoftware.com website.
Beta's of the Good2Go Switch Apps are expected to be available to select Switch users and Enfocus integrators in November at no charge for a limited time. Pricing for the Good2Go Switch App bundle will be announced at a later date.
For more information on Good2Go write sales@Good2GoSoftware.com or visit www.Good2GoSoftware.comto learn more about Good2Go and sign up for a free trial.
Good2Go Software, LLC, founded in 2020, is a global supplier of cloud-based workflow solutions for the graphic arts and printing industries. Our mission is to offer an open workflow environment that is accessible by companies of any size. We will do this by taking an all-new approach to workflow solutions utilizing the latest in cloud technologies to integrate with a large variety of graphic arts, and non-graphic arts, solutions. Good2Go customers will be able to select best-of-breed solutions to add to their Good2Go environment without any additional integration or IT services required. Therefore we say, "Good2Go is workflow without the work."