Learn how Good2Go fits in your print production workflow and the tools you use today.





Good2Go fits in your quoting workflow three ways.

One is to use Good2Go to deliver and manage your quotes. With a PDF of the quote, you can use the "Send for review" function to send the quote to your client. Doing this allows Good2Go to manage your quotes, as well as Good2Go will automatically follow-up on the quote based on a deadline you define (automated reminders).
Second is to use the "Request for quote" option in a Good2Go order portal. This will collect customer and job information along with the job file(s). This option also automatically creates client portal so they can see the status of their job and upload additional files if needed.
Third is to link Good2Go to your MIS solution *. Then quotes can be forwarded to Good2Go and turned into a "Order". With an order created, the print buyer and a CSR can be connected in Good2Go so they can collaborate on their job.
*The MIS must allow for an API connection. Contact us to explore this option.
Good2Go has a three ways to on-board new jobs and files.

One is to use Good2Go's simple file upload function. Just create a folder and then select "Upload Link" from the action menu. Folders can be used for general uploads, or folders can be designated for a specific customer.
Second is to use Good2Go order portal function. Portals collect customer and job data along with the file(s) associated with the job. Plus, when a job is submitted, the client is automatically provided a job portal where they can get updates, upload more files, and communicate job updates.
NOTE: There is no limit on how many folders or portals that can be created. This allows you to create general file upload portals, as well as folders and portals that are client specific. This can help in organizing regular clients from your walk-in clients.
Third, is to connect Good2Go to your MIS* and so accepted quotes can be passed onto Good2Go to start the on-boarding process.
*The MIS must allow for an API connection. Contact us to explore this option.
Special on-boarding feature!
When on-boarding files, a CSR needs to know, is the file printable and does it match the specifications?
They want to know:
Does the file page size match the job spec?

Does the page count match?

Are the images high-resolution?

Is bleed needed and defined?
Basically, the CSR (in most cases) wants to know if they need to go back to the client for any problems?
Often this means waiting for prepress or the art department to check out the files. With Good2Go all PDFs are checked for all these issues plus more once they are submitted to Good2Go.
Imagine how much time will be saved if a CSR can know in seconds if they need to go back to the client for any corrections without going to prepress?

In many shops the art department or prepress is responsible for reviewing new jobs and making sure the files match the specifications for the job and will print on the planned printing device. Good2Go helps this process in several ways.
First is receiving the job. A CSR that uses Good2Go can "Assign" a job or file to the art department. This will put the new job in their Good2Go Inbox where the job gets prioritized against other jobs. This helps keep jobs organized and on-time. When the job is completed, the job can be forwarded for print approval or automatically passed back to the CSR.
Second is the built-in preflight. Good2Go not only provides a good overview for CSRs, it also provides several levels of details that can help the art department narrow in on problems in files quickly.
Third is "Upload links" and "Revision links". Both of these can be useful if corrections or additional art is needed from the client.


While preparing files for print, sometimes jobs need to be sent to outside artists for layout, or jobs need to be outsourced to another printer and a quote or final production is needed.
Good2Go offers a "Job Forward" feature allowing a job along with specifications to be sent to any outside provider. Just create a job using the Order Portal, describe what's needed, add a file if needed, and forward to the vendor of your choice.

This not only keeps the process simple, it also keeps it under your control.

Many CSRs and prepress personnel use email to obtain customer approval on documents. The problem is email is hard to manage and does not provide any automation based on customer comments or response.
Good2Go provides several features to help keep print approvals and change requests organized and on-time.
Good2Go offers a default review message so you don't have to retype instructions every time.
Good2Go offers a default due date to help keep clients on-time.
Good2Go has automated reminders to help remind clients of the approval.
Good2Go Reviewer interface does not require a log-in and provides tools for mark-up and commenting.
When the review is complete, the sender is automatically informed of the clients selection to reject, approve or ask for changes.

Special print approval features
First, prepress, or CSRs can use the Good2Go Review interface to mark-up documents and send them back to the client with the mark-ups. This can be useful to help communicate changes to the client on more complicated pages.
Second, do you need to send out a lot of review documents? Good2Go offers a 'Quick Job" screen that makes sending reviews easier than sending email.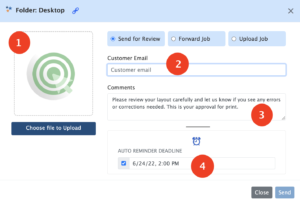 Good2Go Quick Job window: (1.) Drag and drop a PDF file. (2.) Enter an email. (3.) Modify the message if needed. (4.) Confirm the due date and send.

Good2Go helps move files quickly and efficiently to print production. The ultimate goal at every printer. Good2Go offers several tools to help move jobs to press and completion.
With assignment to production (Assign Task) job specifications and job files can get prioritized in the Job Board for final production. Plus Good2Go ensures the right production file is being used.
Good2Go can be linked to a workflow automation solutions like Enfocus Switch, for final print production and print.
Want to integrate with your MIS or workflow system?
If you'd like to explore connecting your MIS or workflow system, make2 an appointment with us and we'll help you pull it all together.